US fossil fuels production increased by 2% in 2021
The combined production of fossil fuels (including natural gas, crude oil, and coal) in the United States increased by 2% in 2021, according to the US Energy Information Administration (EIA). In 2021, natural gas accounted for 46% of US production of fossil fuels, followed by crude oil (30%), coal (15%) and NGPL (9%). The public agency forecasts that the country's output of fossil fuels will continue to rise in 2022 and 2023, surpassing the 2019 production level and reaching a new record in 2023. Indeed, natural gas production in the United States, which increased by 2% in 2021, will expand by 3% in 2022 and 2% in 2023. US crude oil production will increase by 6% in 2022 and 5% in 2023, after +1% in 2021. US coal production, which rose by 7% in 2021, will grow by 6% in 2022 and 1% in 2023. Finally, natural gas plant liquids (NGPL) production increased by 4% in 2021 and will rise by 9% in 2022 and 4% in 2023. 
---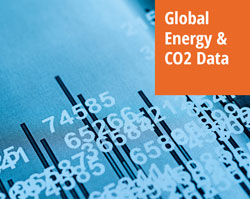 Then Global Energy Market Data & CO2 is your database! We provide world coverage of the oil, gas, coal, and power markets and a detailed overview of national supply & demand with annual data going back to 1970.
This energy database leverages more than 200 official data sources, which are processed by our analysts to provide fully harmonised data sets that are updated monthly.