US CCGT power generation capacity overtakes coal-fired capacity
According to the United States Energy Information Administration (EIA), the US power generation capacity from combined-cycle (CCGT) power plants surpassed that from coal-fired plants and became the technology with the largest power capacity in the United States in 2018. As of January 2019, the CCGT installed capacity totalled 264 GW, compared with 243 GW for coal-fired power capacity. Since 2015, about 40 GW of coal-fired power capacity have been retired, no new coal capacity has been commissioned, whereas the total CCGT capacity has increased by about 30 GW.
Gas-fired power plants surpassed coal as the primary capacity resource more than 15 years ago but this is the first time that a single gas-fired generating technology alone surpasses coal. At the end of 2018, CCGT power plants accounted for more than half of all the domestic natural gas-fired generating capacity, but also provided almost 90% of total natural gas-fired generation, reflecting a higher capacity factor than for natural gas combustion and steam turbines.
---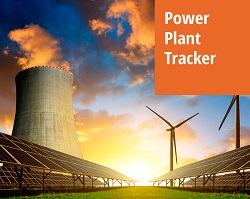 Enerdata has developed a market research service to screen, monitor and analyse the development of power generation assets.
Power Plant Tracker offers an interactive database and a powerful search engine covering power plants worldwide – including both installed and planned capacities for renewables and fossil fuels.