The United States plans to retire 9.1 GW of installed capacity in 2021
According to the US Energy Information Administration (EIA), the country will retire 9.1 GW of power generation capacity in 2021, including 5.1 GW of nuclear (56%) and 2.7 GW of coal-fired power plants (30%). More than 800 MW of oil-fired capacity, 253 MW of gas-fired capacity and a 143 MW biomass-fired power plant are also expected to retire in 2021.
Where nuclear is concerned, Exelon Corporation plans to retire two of its Illinois nuclear plants, Dresden and Byron, with a combined capacity of 4.1 GW. In addition, the third unit (1 GW) at the Indian Point nuclear power plant in New York state is due to shut down in April 2021. There are currently 95 nuclear reactors in operation for a total capacity of 102 GW. In 2019, two units of the Three Mile Island (819 MW) and Pilgrim nuclear power stations (677 MW) were shut down after 45 and 47 years of operation, respectively; in 2020, Entergy decommissioned its 1.3 GW Indian Point second reactor, while NextEra Energy shut down its Duane Arnold 600 MW reactor. Nuclear retirements are linked to historically low gas prices, slow growth in electricity demand and increased competition from renewable power generation.
Over the last 5 years, around 48 GW of coal-fired capacity retired in the United States. In 2021, only 2.7 GW of older units should be stopped, including 670 MW at Chalk Point in Maryland, Big Bend (Unit ST2) in Florida, Bridgeport Station (Unit 3) in Connecticut, and Genoa in Wisconsin.
---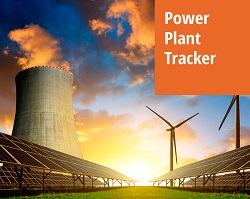 Enerdata has developed a market research service to screen, monitor and analyse the development of power generation assets.
Power Plant Tracker offers an interactive database and a powerful search engine covering power plants worldwide – including both installed and planned capacities for renewables and fossil fuels.