The United States officially re-enters the Paris agreement
The United States has officially re-entered the Paris agreement on climate change, after having officially withdrawn in November 2020. The Paris agreement was signed by nearly 200 countries in December 2015, in an attempt to cut global GHG emissions and to keep global temperature increases "well below" 2°C. The United States, which committed in November 2014 to reduce net greenhouse gas (GHG) emissions by 26%-28% below 2005 levels by 2025, formally ratified the agreement in September 2016. However the Trump administration formally notified the United Nations of its intention to withdraw from the Paris agreement in November 2019 and the United States withdrew one year later. The new Biden administration now plans to announce updated goals, in the attempt to set th country on the course to carbon neutrality by 2050.
---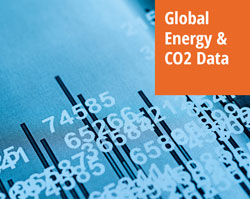 Then Global Energy Market Data & CO2 is your database! We provide world coverage of the oil, gas, coal, and power markets and a detailed overview of national supply & demand with annual data going back to 1970.
This energy database leverages more than 200 official data sources, which are processed by our analysts to provide fully harmonised data sets that are updated monthly.