The United States is expected to add 46 GW of new capacity in 2022
In 2021, the United States added 17.1 GW of wind and 15.5 GW of solar according to early estimates released by the US Energy Information Administration (EIA). The public agency forecasts that the country will commissions 46.1 GW of new capacity in 2022, including 21.5 GW of solar, 9.6 GW of gas, 7.6 GW of wind and 5.1 GW of battery. Most of the new solar capacity will be installed in Texas (6.1 GW, or 28% of the national total) and in California (4 GW), while 51% of the new wind capacity will be installed in Texas (with the 999 MW Traverse Wind Energy Center expected in Oklahoma in April 2022). New gas-fired capacities - mainly CCGT (8.1 GW) - will be added in Ohio, Florida, Michigan, and Illinois. In addition, two new reactors at the Vogtle nuclear power plant in Georgia should come online, adding 2.2 GW of new nuclear capacity.
The installed capacity in the United States amounted to 1,246 GW at the end of 2020. It is dominated by gas (44%) and coal (19%). Renewables account for 26% and nuclear for 8% of the total capacity.
---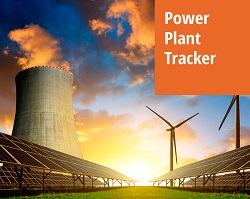 Enerdata has developed a market research service to screen, monitor and analyse the development of power generation assets.
Power Plant Tracker offers an interactive database and a powerful search engine covering power plants worldwide – including both installed and planned capacities for renewables and fossil fuels.