Ukraine plans to build two US-made reactors for the Khmelnitsky nuclear plant
Ukraine's Cabinet of Ministers has adopted an order to launch organizational measures and begin work on project documentation for the construction of two new Westinghouse AP1000 reactors at the 1.9 GW Khmelnitsky nuclear power plant, located in western Ukraine. This decision to transition to US-made nuclear reactors is part of a broader strategy to turn Ukrainian energy sector towards Western technologies and away from Russian ones.
The target date to complete construction and commissioning of the two reactors has been set between 2030 and 2032, subject to the impact of the war with Russia. Ukraine's Ministry of Energy estimates the cost of each unit at about US$5bn. The cabinet decision implies the launch of a technical and economic feasibility study and the procurement of other project documentation.
The first 950 MW reactor of the Khmelnitsky nuclear plant was connected to the grid in 1987, however work on three other reactors was stopped in 1990. Work on the second 950 MW reactor resumed, and it was connected to the grid in 2004. Units 3 and 4 remain uncomplete to this day. Prior to the war, the second unit was planned to be decommissioned in 2026.
As of end-2021, nuclear represented 25% of Ukraine's installed capacity with 13.8 GW and 55% of its power generation with 86.2 TWh. The country possesses Europe's largest nuclear plant, the 5.7 GW Zaporizhzhia nuclear plant, which possesses six 950 MW reactors. The power plant is currently on the front lines of the war with Russia.
---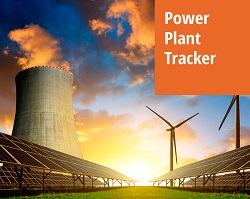 Enerdata has developed a market research service to screen, monitor and analyse the development of power generation assets.
Power Plant Tracker offers an interactive database and a powerful search engine covering power plants worldwide – including both installed and planned capacities for renewables and fossil fuels.