Tunisia adopts new regulatory framework for renewable net metering
The government of Tunisia has approved the regulatory framework for net metering, allowing private renewable power producers to generate electricity for self-consumption and to sell excess power to large energy consumers and to the national power utility STEG. The decree doesn't define the maximum amount for the sale of excess generation but it sets up the conditions for the use of national grid infrastructures to sell power to third parties through bilateral power purchase agreements (PPAs). The government aims at increasing the competitiveness of energy-intensive companies in Tunisia, and this option to sell power under PPAs is expected to improve their power supply at a low and stable cost.
In 2015, Tunisia adopted a law on renewable power generation that aimed at covering 12% by 2020 and 30% by 2030 of its power mix with renewables (corresponding to a capacity of 3.8 GW between 2016 and 2030). This law enables foreign and Tunisian investors to produce electricity for exports and local consumption. In 2017, feed-in tariffs were introduced for solar (<10 MW), wind (<30 MW), biomass (<15 MW) and other sources (<5 MW). For installations connected to a low voltage grid, the surplus production is deduced from the electricity consumption of the next year (net metering). For installations connected to mid- and high-voltage grids, the surplus production is sold to STEG to a maximum of 30% of the annual production (net-billing). An auction system applies for plants above these thresholds. Since 2002, cogeneration installations can also sell their surplus electricity supply to the grid.
At the end of 2018, Tunisia had an installed renewable power capacity of more than 350 MW, including 245 MW of wind, 47 MW of solar and 62 MW of hydropower.
---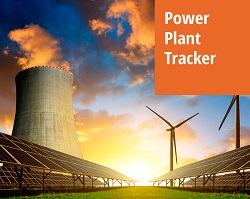 Enerdata has developed a market research service to screen, monitor and analyse the development of power generation assets.
Power Plant Tracker offers an interactive database and a powerful search engine covering power plants worldwide – including both installed and planned capacities for renewables and fossil fuels.