Total acquires EDP's power and gas assets in Spain
Total has acquired assets of Energías de Portugal (EDP) in Spain for €515m, including 2.5 million B2C customers and two gas-fired combined cycle power plants, with a total capacity of 850 MW. The portfolio of around 2.5 million residential electricity (21 TWh) and gas (27 TWh) contracts comprises around 2.1 million held by EDP Commercializadora (100% EDP) and around 0.4 million by CHC, a joint venture between EDP and CIDE, the latter transaction being subject to CIDE agreement. The transaction is subject to conditions and regulatory approvals and is expected to close by end-2020.
In February 2020, Total entered Spain's solar industry with two agreements to develop nearly 2 GW of solar projects. The group, through its subsidiary Total Solar International, plans to buy 100% of a portfolio of solar PV projects developed by Solarbay in Andalusia, Aragon and Castilla-La Mancha, with a combined capacity of 1.2 GW. In addition, Total Solar International intends to create a joint venture with Powertis (65% Total, 35% Powertis) to develop solar PV projects in Spain; Powertis will bring its pipeline of 800 MW portfolio of projects into the joint venture.
In addition, Total has decided not to complete the purchase of Anadarko's Ghanaian upstream assets, which was conditional upon the completion of the Algeria assets' sale. Earlier in May 2020, Occidental Energy officially notified Total that the French major cannot acquire Anadarko's oil and gas assets in Algeria, as Algerian authorities have blocked the sale in the country. In May 2019, Occidental Energy took over Anadarko and agreed to sell Anadarko's assets in Algeria, Ghana, Mozambique and South Africa to Total for US$8.8bn. It included a 27% stake in the Jubilee field and 19% stake in the TEN fields. These fields represented a gross production of 143 kb/d in 2018.
---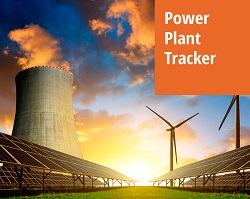 Enerdata has developed a market research service to screen, monitor and analyse the development of power generation assets.
Power Plant Tracker offers an interactive database and a powerful search engine covering power plants worldwide – including both installed and planned capacities for renewables and fossil fuels.