Thailand's state-held company PTT sets up a global LNG unit
The Thai state-held oil and gas company PTT, the sole LNG importer in Thailand, has created PTT Global LNG Company, a global LNG trading and marketing business unit. It will be a joint venture between PTT (50%) and its subsidiary PTTEP Business Center Company (50%).
PTT is looking forward to expanding Thailand's LNG import capacity and has several ongoing projects such as the expansion of the Map Ta Phut LNG import terminal, which is expected to upgrade the current 5 Mt/year capacity up to 11.5 Mt/year upon completion in 2019. PTT has received official approval for the project and is also looking for a further expansion of the terminal. Ma Ta Phut LNG is the sole LNG terminal in Thailand but the construction of a second 7.5 Mt/year LNG import terminal is also planned.
PTT has recently signed a 15-year LNG supply contract (1.2 Mt/year) with Malaysian oil and gas company Petronas, on top of existing LNG supply agreements with BP, Shell and Qatargas. A 20-year LNG supply deal was signed with BP in 2016 (1 Mt/year). The Thai company is also seeking new long-term suppliers in Australia, North America and Africa; its E&P subsidiary PTTEP holds an 8.5% stake in the Rovuma Offshore Area 1 project in Mozambique, where a 12 Mt/year LNG production plant is under consideration.
---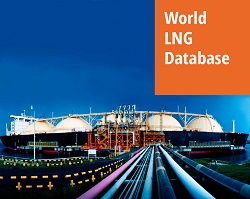 World LNG Database offers a complete set of data on LNG markets. The service provides detailed information on existing and planned liquefaction and regasification plants. It also includes LNG shipping around the world, LNG contracts, time series on regasification and liquefaction capacities, LNG flows and LNG prices for all players in the market.