Taiwan rises its renewable target by 25% to 17.3 GW in 2030
Taiwan's Bureau of Energy (BOE), part of the Ministry of Economic Affairs (MOEA) has raised the country's renewable energy target to 17,250 MW for 2030, which is its third upward adjustment for the renewable energy target. The Renewable Energy Development Act, passed in 2009, initially set the renewable energy promotion target for 2030 at 10,858 MW. In 2011, the target was increased to 12,502 MW and then further to 13,750 MW in 2014. Now MOEA raises the target of the solar PV for 2030 from 6,200 MW to 8,700 MW and off-shore wind power target for 2030 from 3,000 MW to 4,000 MW.
The major programs encouraging the development of renewable energies include Million Solar Rooftop PVs and Thousand Wind Turbines Promotion. Solar PV is the fastest-growing source of renewable energy with 610 MW of new installed capacity in 5 years. The original target of 6,200 MW for 2030 is expected to be achieved by 2025, which is 5 years ahead.
The share of renewables in Taipower and in national power mixes are estimated to be more than 30% and 26%, respectively.
---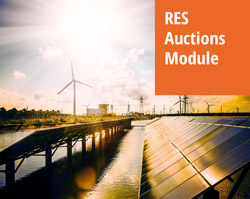 Discover our very detailed and regularly updated RES auctions database with worldwide coverage and a technical focus backed by academic research.
With our renewable energies auctions service you will be able to monitor auctions at a global level. Its (expanding) scope notably includes all major G20 countries and offers an especially fine tracking on Europe and South America.