Switzerland plans to build a nuclear waste repository near border with Germany
The Swiss National Cooperative for the Disposal of Radioactive Waste (Nagra) has selected the Nördlich Lägern region near the German border to host a deep geological storage repository for radioactive waste. The country's radioactive waste is currently kept at an intermediary depot in Würenlingen, located 15 km from the German border. Switzerland needs to bury 83,000 cm of nuclear waste.
Nagra will submit applications for overall approval of the project to the government by the end of 2024. The Federal Council and Parliament will then have to decide around 2029. A referendum could be launched. The start of construction is scheduled for 2045. The first waste could be stored around 2050. The depot should then be closed in 2115.
There are 4 nuclear reactors in Switzerland: Beznau 1 and 2 (365 MW net each), Gösgen (970 MW), and Leibstadt (1,165 MW). In 2019, Switzerland stopped its 355 MW Mühleberg reactor. Nuclear accounts for 12% of Switzerland's installed capacity (2020) and a third of the country's power mix (2021).
---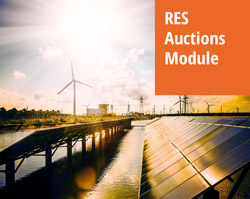 Discover our very detailed and regularly updated RES auctions database with worldwide coverage and a technical focus backed by academic research.
With our renewable energies auctions service you will be able to monitor auctions at a global level. Its (expanding) scope notably includes all major G20 countries and offers an especially fine tracking on Europe and South America.