SSE commissions a 893 MW gas-fired plant (United Kingdom)
SSE Thermal has commissioned the 893 MW Keadby 2 gas-fired CCGT power project in North Lincolnshire (United Kingdom). Construction of the combined-cycle gas turbine plant started in August 2018 and Siemens Energy supplied a 9000HL 50Hz turbine for the project. In March 2020, through the UK's Capacity Auction process, the power plant secured a 15-year capacity agreement at a de-rated capacity of 804 MW. Keadby 2, which has already been providing power to the grid during the commissioning phase, will provide flexibility for the British electricity system, complementing the increasing amounts of renewable generation on the grid. SSE is exploring option to decarbonise Kearby 2, with the potential to blend hydrogen into the plant as a first step.
On the same site, SSE Thermal and Equinor are developing Keadby, a 910 MW CCGT project with a carbon capture and storage (CCS) installation to remove CO2 from emissions. The plant could be operational as early as 2027. The site also host the 735 MW Keadby 1 gas-fired plant, which was commissioned in 1996.
In addition, EDF has announced that it does not plan to extend the life of its West Burton A coal-fired power plant between Lincoln and Doncaster. The two remaining 500 MW units will close as planned at the end of March 2023, in line with the agreement signed in 2022. The Electricity System Operator (ESO) of National Grid was requested by the Department for Energy Security and Net Zero to make sure there were backup plans in case of an energy supply shortage.
---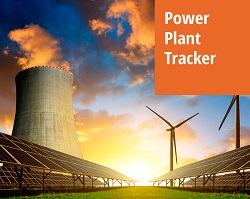 Enerdata has developed a market research service to screen, monitor and analyse the development of power generation assets.
Power Plant Tracker offers an interactive database and a powerful search engine covering power plants worldwide – including both installed and planned capacities for renewables and fossil fuels.