Spain's Repsol targets 20 GW of renewables capacity by 2030
The Spanish energy group Repsol has presented new objectives that will accelerate its transformation into a net zero emissions company by 2050. The group will seek to reduce its carbon intensity by 15% in 2025, 28% in 2030, and 55% in 2040. It has set  an absolute emission reduction target, committing to cutting 55% of emissions from operated assets (Scope 1 and 2) and 30% of net emissions (Scope 1, 2, and 3) by 2030. Overall, Repsol has allocated €6.5bn to low-carbon projects in 2021-2025 period, compared to €5.5bn in the previous plan. Renewable and low-carbon investments will account for 35% of total investments over the 2021-2025 period.
The energy group targets a renewable power generation capacity of 20 GW, including 6 GW by 2025 (up from a previous target of 5.2 GW by 2025 and 12.7 GW by 2030 set in the November 2020 roadmap). Moreover, Repsol plans to reach a renewable hydrogen capacity of 552 MW equivalent in 2025 and 1.9 GW in 2030, compared to the previously announced targets of 400 MW and 1.2 GW, respectively. The group will install electrolysers and biogas production plants at its industrial complexes and will develop a proprietary photo-electro-catalysis technology. A demonstration plant will be installed at the Puertollano industrial complex in 2025 to generate hydrogen from water using solar power. Repsol will also seek to produce 2 Mt of low-carbon fuels by 2030 and will start its advanced biofuels plant in Cartagena (Spain) in the first quarter of 2023.
---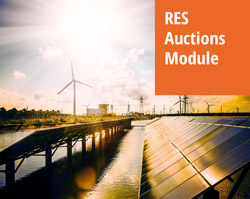 Discover our very detailed and regularly updated RES auctions database with worldwide coverage and a technical focus backed by academic research.
With our renewable energies auctions service you will be able to monitor auctions at a global level. Its (expanding) scope notably includes all major G20 countries and offers an especially fine tracking on Europe and South America.