South Sudan expects to produce 350,000 bbl/d of crude oil by mid-2020
The South Sudanese government has outlined plans to return to producing more than 350,000 bbl/d of crude oil by the middle of 2020, up from the current level of 140,000 bbl/d. An intermediate objective has been set a 270,000 bbl/d for the end of 2019. More specifically, block 3 and 7 are expected to produce 180,000 bbl/d in 2019, while blocks 1, 2 and 4 will produce 70,000 bbl/d, and block 5A will produce 20,000 bbl/d
The country split from Sudan in 2011 and has large reserves of crude oil, only a third of which have been explored so far. South Sudan has signed a preliminary agreement with Zarubezhneft (Russia) for exploring some of oil blocks (blocks B1, B2, E1 and E2).
Even though South Sudan is landlocked, it aims to to boost its export options and has several projects on track. It plans to collaborate with South Africa on the construction of new pipelines and a 25,000 bbl/d refinery along the Ethiopian border. The refinery project will be designed as a modular installation and is set to break ground later in the first quarter of 2019. Located in the neighbourhood of the Paloich oil field (Melut basin), it will target high growth export markets in other African countries such as Ethiopia, Kenya, Sudan, Uganda and Tanzania.
---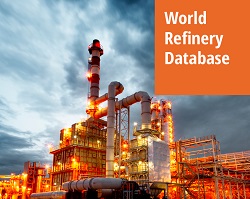 Use this powerful business intelligence tool to assess current and future production capacities of oil products by country and by zone. Gain insight into companies' asset portfolios and future trends for refined oil production capacities, giving you the ultimate edge for strategy and decision-making.