South Korea's GHG emissions rose by 3.5% in 2021, after a 6.2% drop in 2020
South Korea's greenhouse gas (GHG) emissions rebounded by 3.5% to 679 MtCO2eq in 2021, after a 6.2% drop in 2020, according to the country's Ministry of Environment. It represents a 6.5% decline compared to 2018 level. This increase was mostly driven by industry-related GHG emissions, which rose by 5.2% in 2021, followed by the energy sector (+3.6%), waste disposal (+1.6%) and agriculture (+0.9%).  In 2021, the energy sector accounted for 86.9% of South Korea's total GHG emissions, followed by industry (7.5%), agriculture (3.1%) and waste disposal (2.5%). The country's GHG emissions had been rising by an average of 1.1%/year between 2010 and 2018 and peaked at 727 MtCO2eq in 2018, before experiencing a decrease of 3.6% in 2019. South Korea aims to cut its GHG emissions in 2030 by 40% compared to 2018 levels and to reach carbon neutrality by 2050.
---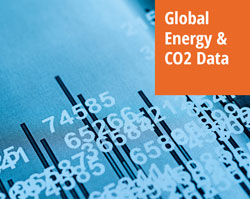 Then Global Energy Market Data & CO2 is your database! We provide world coverage of the oil, gas, coal, and power markets and a detailed overview of national supply & demand with annual data going back to 1970.
This energy database leverages more than 200 official data sources, which are processed by our analysts to provide fully harmonised data sets that are updated monthly.