South Africa's greenhouse gas emissions increased by 14% over 2000-17
South Africa's total greenhouse gas emissions excluding FOLU (forestry and other land use) increased by 14% between 2000 and 2017 to 513 MtCO2eq, according to the country's 7th National Greenhouse Gas (GHG) Inventory Report. The energy sector is the largest contributor to emissions excluding FOLU (80%) and is responsible for 97% of the increase over 2000-2017. Energy industries were responsible for 61% of emissions from the energy sector in 2017. This was followed by transport (13%), other sectors (9%) and manufacturing industries and construction (7%).
In 2017, CO2 accounted for 85% of total GHG emissions excluding FOLU, followed by methane (CH4, 10%) and nitrous oxide (N20, 5%). Between 2015 and 2017, the country's total GHG emissions excluding FOLU declined by 3%. The AFOLU (agriculture, forestry, and other land use) emissions dropped by 6% in 2017. South Africa's total GHG emissions including FOLU increased by 10% between 2000 and 2017 to 482 MtCO2eq.
In April 2021, the country released its updated draft Nationally Determined Contribution (NDC) for public consultation. According to the document, South Africa's GHG emissions should be limited to 398-510 MtCO2eq in 2025 and to 398-440 MtCO2eq in 2030. By comparison to the targets contained in South Africa's first NDC (2015), the upper end of the target range in 2025 has been reduced by 17%, and the upper end of the target range in 2030 has been reduced by 28%.
---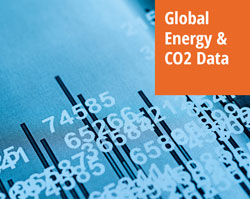 Then Global Energy Market Data & CO2 is your database! We provide world coverage of the oil, gas, coal, and power markets and a detailed overview of national supply & demand with annual data going back to 1970.
This energy database leverages more than 200 official data sources, which are processed by our analysts to provide fully harmonised data sets that are updated monthly.