South Africa's carbon tax becomes law and will apply on 1 June 2019
South Africa's proposed carbon tax has been passed into law and will thus apply as of 1 June 2019. The tax will be applied in two phases: the first phase will go from June 2019 to December 2022 and will impact sectors with a thermal capacity above 10 MW (except the agriculture forestry and other land use and waste), also called scope 1, while the second phase will go from 2023 to 2030. After the first phase, a study on the impacts in emissions will be conducted.
For the first phase, the carbon tax was set at ZAR120/tCO2eq (US$8.3/tCO2eq) but due to many tax-free allowances, the effective tax will range from ZAR6/tCO2eq (US$0.41/tCO2eq) to ZAR48/tCO2eq (US$3.3/tCO2eq). Tax-free allowances will be provided ranging from 60% to 95% of the tax amount depending on the economic sector and company involvement to fight climate change. The scheme includes a basic tax-free allowance of 60% for all activities, a 10% process and fugitive emissions allowance, a maximum 10% allowance for companies that use carbon offsets to reduce their tax liability, a performance allowance of up to 5% for companies that reduce the emissions intensity of their activities, a 5% carbon budget allowance for complying with the reporting requirements and a maximum 10% allowance for trade exposed sectors. Tax-free allowance could be eliminated as from 2022. The government foresees no electricity price increase related to the carbon tax during the first phase of the scheme.
The first carbon tax system was proposed in 2010 but has been delayed at least three times over concerns of profit losses and higher electricity prices claimed by state-owned power utility Eskom, mining and steel companies. According to South Africa's Nationally Determined Contribution (NDC), the country committed to unconditionally keep its GHG emissions between 398 MtCO2eq and 614 MtCO2eq by 2025 and 2030. These efforts will lead GHG emissions to peak between 2020 and 2025, plateau for a ten-year period from 2025 to 2035 and decline from 2036 onwards.
---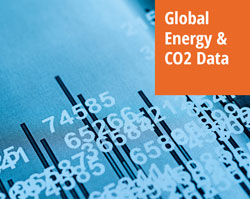 Then Global Energy Market Data & CO2 is your database! We provide world coverage of the oil, gas, coal, and power markets and a detailed overview of national supply & demand with annual data going back to 1970.
This energy database leverages more than 200 official data sources, which are processed by our analysts to provide fully harmonized data sets that are updated monthly.