South Africa allows Eskom to raise electricity prices by 19% in 2023-2024
The National Energy Regulator of South Africa (Nersa) has authorised the national power utility Eskom to increase its tariff by an average of 18.65% starting on 1 April 2023. The heavily indebted power group had requested a more than 32% increase in tariffs, citing higher fuel costs, higher procurement from independent power producers (IPPs) and depreciation of its power generation assets. For the next financial year, Nersa has already approved a 12.74% tariff increase, against a request for 9.74%.
The tariff increase includes revenues that the High Court of South Africa found to be due to Eskom in 2020, including the phased recovery of a ZAR69bn (US$4.1bn) equity injection from Eskom's allowable revenue for the three-year period, authorising Eskom to claw back the full amount over the next three years from customers in the form of higher electricity tariffs. Nersa's decision covers the second and third years of the fifth multiyear price determination (MYPD5). In 2021, Nersa had authorised Eskom to increase its tariff by an average of 15.6% for the 2021/22 financial year; in 2022, it authorised a 9.61% increase (while Eskom had asked for a 20.5% tariff increase).
Eskom is under pressure to improve its energy availability factor to above 65%, as the company implemented power cuts on more than 200 days in 2022, with record cuts of 6 to 8 hours a day for most households. The company is currently implementing stage-6 loadshedding measures (6 GW of capacity unavailable).
---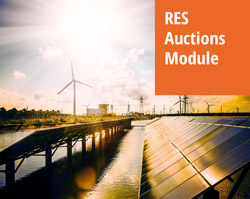 Discover our very detailed and regularly updated RES auctions database with worldwide coverage and a technical focus backed by academic research.
With our renewable energies auctions service you will be able to monitor auctions at a global level. Its (expanding) scope notably includes all major G20 countries and offers an especially fine tracking on Europe and South America.