Snam will buy a 49.9% stake in the gas pipeline from Algeria to Italy
The Italian gas transmission system operator Snam has signed an agreement to acquire a 49.9% stake from Eni in certain companies operating two groups of international gas pipelines connecting Algeria to Italy for a total consideration of €385m. In particular, the transaction includes the onshore gas pipelines running from the Algeria and Tunisia borders to the Tunisia coast (TTPC), and the offshore gas pipelines connecting the Tunisian coast to Italy (TMPC). Snam and Eni will create a new Italian company to own and operate the two pipeline, in which Eni will continue to hold a 50.1% stake. The transaction is expected to be completed by the third quarter of 2022.
Imports cover 93% of Italy's needs and have been growing since 2014 to meet the higher demand from the power sector, from 56 bcm to 71 bcm in 2019 (+5%/year). In 2020, gas imports contracted by nearly 7% to 66 bcm, in a context of economic downturn. Italy is linked to Algeria via Tunisia by the Enrico Mattei gas pipeline since 2008 (capacity of 37 bcm/year).
---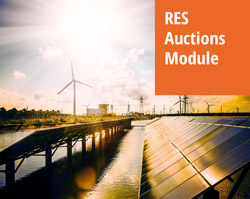 Discover our very detailed and regularly updated RES auctions database with worldwide coverage and a technical focus backed by academic research.
With our renewable energies auctions service you will be able to monitor auctions at a global level. Its (expanding) scope notably includes all major G20 countries and offers an especially fine tracking on Europe and South America.