Senegal plans a new 2.5 bcm/year gas pipeline to supply power plants
The Senegalese sovereign wealth fund FONSIS is seeking proposals from US companies to carry out a feasibility study to support the development of Senegal's first major domestic onshore gas pipeline. The project is a 135-155 km onshore gas pipeline, with a capacity of 2.5 bcm/year, that will connect offshore gas fields - initially the Yakaar-Teranga field - to 5 existing thermal power plants that are being converted from heavy fuel oil (HFO) to gas. The new gas pipeline would also supply gas to 4 new gas-fired power plants that Senegal expects to build by the end of 2023.
Large gas resources were discovered in the Greater Tortue Ahmeyim (GTA) gas field in 2014 between Senegal and Mauritania, estimated at around 15 Tcf (around 425 bcm). Golar LNG has signed an agreement for the charter of a 2.5 Mt/year (3.4 bcm/year) floating LNG (FLNG) vessel to service the first phase of the GTA. Gas production should start in 2022, with the potential for expansion to 10 Mt/year (13.5 bcm/year). However, in April 2020, BP delayed FLNG delivery for GTA to 2023.
Since its offshore gas fields are planned to come on stream in the next few years, Senegal plans to convert its coal-fired and oil-fired power plants to gas over the next years. The government expects this fuel conversion to help reduce power generation costs and end-consumer prices. At the end of 2019, Senegal's installed capacity stood at 1.3 GW with oil accounting for 60% of the total capacity and coal 13% (less than 6% for gas).
---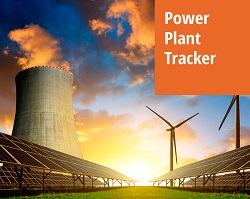 Enerdata has developed a market research service to screen, monitor and analyse the development of power generation assets.
Power Plant Tracker offers an interactive database and a powerful search engine covering power plants worldwide – including both installed and planned capacities for renewables and fossil fuels.