RWE's power generation figures decreased by 6.4% in 2017 (Germany)
The German energy group RWE has unveiled its 2017 results, reporting an adjusted EBITDA of €5.8bn (+6.5%) in 2017 and a 59% growth in its adjusted net income to €1.2bn.
At the end of 2017, the company's installed power generation capacity reached 43,269 MW (46,411 MW in 2016), of which 15,076 MW of gas-fired capacity, 11,017 MW of lignite-powered capacity, 7,302 MW of hard coal power plants, 2,770 MW for nuclear and 4,148 MW for renewable energies.
In 2017, RWE power generation declined by 6.4% (-14 TWh) to 202 TWh, due to a 33% fall in coal-fired generation (-15 TWh) in unfavourable market conditions (electricity from lignite and nuclear energy was sold at an average of €31/MWh in 2017, down from €35/MWh in 2016). CO2 emissions decreased by 12% down to 132.4 MtCO2 (148.3 Mt in 2016). Coal accounted for 15% of RWE's power mix (as nuclear), while lignite accounted for 37%, gas for 27% and renewables for 6%. The share of gas is expected to rise and the company intends to build a new 2.5 GW combined-cycle facility at the Tilbury site (United Kingdom).
RWE's electricity sales slightly dipped in 2017 (-1.3%) to 261 TWh, despite a 5.4% increase in sales to distributors (+2.1% for industrial and corporate customers but -3.8% for residential and commercial customers). Gas sales also contracted (-4%) to 254 TWh, as industrial and commercial customers supplied by Innogy switched suppliers (-12% for this segment); residential sales also eroded (-2.2%).
---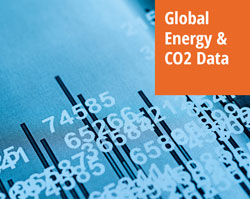 Then Global Energy Market Data & CO2 is your database! With world coverage of the oil, gas, coal and power markets and a detailed overview of national supply & demand annual data dating from 1970.
This energy database leverages more than 200 official data sources which are processed by our data specialists to provide fully harmonized data sets that are monthly updated.