Russia's Gazprom forecasts a 15% drop in gas sales to Europe in 2020
Gazprom anticipates a nearly 15% decline in its gas sales to Europe from 199 bcm in 2019 to 170 bcm in 2020. In addition, the company's average gas price in Europe is expected to reach US$130/1,000 cm in 2020.
In 2019, Gazprom reported a 6.8% drop in its revenues and a 17% fall in its net profit in 2019. The decrease in revenues was due to lower gas sales (-3% to 507 bcm in 2019) and price effects. Gas sales to Europe and other countries contracted by 5% in 2019 to 232 bcm, with the average price declining by 12%. Sales to Former Soviet Union countries increased by 1.6% to 39 bcm (with a stable price) and sales to and Russia declined by 1.6% to 236 bcm (the average price rose by 3.4%).
---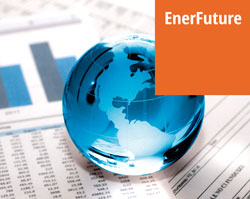 Discover the EnerFuture service: a long-term forecast (to 2050) of demand, prices, and CO2 emissions by sector and for all energies, plus power generation capacities and production levels by fuel. Three distinct scenario reflect different potential policy developments.