Russia's electricity consumption declined by 2.3% in 2020
According to the Russian power transmission system operator SO UPS, electricity consumption in the Unified Energy System (UES) of Russia decreased by 2.4% in 2020. Electricity consumption in Russia as a whole declined by 2.3% in 2020. Electricity generation in Russia in 2020 amounted to 1,064 TWh, which is 3% less than in 2019. Power plants in the UES produced 1,047 TWh (-3.1%), with thermal accounting for 53% of the total, nuclear for 21% and hydropower for 20%. Power plants for industrial enterprises accounted for 6% of total generation in the UES.
---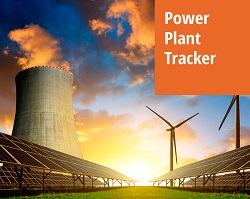 Enerdata has developed a market research service to screen, monitor and analyse the development of power generation assets.
Power Plant Tracker offers an interactive database and a powerful search engine covering power plants worldwide – including both installed and planned capacities for renewables and fossil fuels.