Russian regulator allows start-up at Leningrad II-2 nuclear reactor
The Russian Federal Service for Environmental, Technological and Nuclear Supervision (Rostekhnadzor) has authorised power start-up at the second VVER-1200 reactor of the Leningrad II nuclear power plant in Sosnovy Bor, in western Russia. In July 2020, the Russian nuclear company Rosatom started to load fuel into the unit, marking the kickoff of the physical start-up to the reactor. In addition, Rostekhnadzor had issued a license to operate the reactor, which is expected to start trial operations soon, to be connected to the network in the fourth quarter of 2020 and to be commissioned in early 2021.
The Leningrad I nuclear power plant in Russia consists of four RMBK-1000 nuclear reactors rated 925 MW (1,000 MW gross) each and commissioned between 1973 and 1981; the first unit was stopped in December 2018. A second phase (Leningrad II) is adding four VVER-1200 reactors: the first one rated 1,085 MW was commissioned in October 2018, and the second one is expected in early 2021. It will replace the RBMK-1000 reactor of the Leningrad I-2 power unit, that will be shut down at the end of 2020. Two additional units (3 and 4) rated 1,170 MW are under development.
---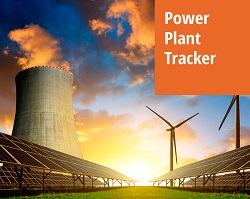 Enerdata has developed a market research service to screen, monitor and analyse the development of power generation assets.
Power Plant Tracker offers an interactive database and a powerful search engine covering power plants worldwide – including both installed and planned capacities for renewables and fossil fuels.