Russian gas transit via Ukraine declined by a quarter in 2021 to 41.6 bcm
The Gas Transmission System (GTS) Operator of Ukraine has transported 41.6 bcm of Russian gas to Europe (-25% compared to 2020), which is slightly above the minimum flow specified under the term of the current transit contract (transit of 40 bcm/year of natural gas to Europe via Ukraine over the 2021-2024 period). Most of the transit occurred through Slovakia (27.4 bcm, -29%), Hungary (6.8 bcm, -29%), Poland (3.8 bcm, +1%), with the remainder through Moldova (3.2 bcm, +6%) and Romania (0.4 bcm, -56%). Romania and Hungary have stopped physical transit of Russian gas through Ukraine, in the Trans-Balkan direction (GVS Orlovka) to Romania in April 2021, and to Hungary (GVS Bereg) from October 2021. Ukraine's natural gas flows from Europe amounted to 2.6 bcm, which is six times less than in 2020. Overall, the capacity of the Ukrainian gas transmission network was used by less than 30%, despite the reduction of stocks in European underground gas storages and the surge in gas price in European gas markets.
Ukraine has significant interconnection capacities with Russia (import capacity of 246 bcm/year and export capacity of 32.5 bcm/year). The tensions between the two countries led to the interruption of Russian gas supply to Ukraine in November 2015. Ukraine relies on its gas stocks and has managed to diversify its supply routes with imports from EU countries (Poland, Hungary, and Slovakia). Russia has developed two gas pipelines, Nord Stream (and Nord Stream 2) and TurkStream, aimed at circumventing Ukraine.
---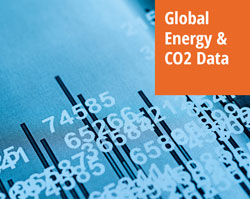 Then Global Energy Market Data & CO2 is your database! We provide world coverage of the oil, gas, coal, and power markets and a detailed overview of national supply & demand with annual data going back to 1970.
This energy database leverages more than 200 official data sources, which are processed by our analysts to provide fully harmonised data sets that are updated monthly.