Russia adopts a new energy strategy until 2035
The Russian government has approved a new draft energy strategy until 2035, which seeks to maximise the contribution of the hydrocarbon industry to the development of Russia and to strengthen the country's position in the global energy sector. Russia aims to develop and diversify its energy exports, modernise and develop its infrastructure, achieve technological independence and boost the competitiveness of the fuel and energy sectors. To do so, the government intends to improve the efficiency, accessibility and quality of energy supply (oil products, gas and electricity), to increase LNG production with the formation of a cluster on the Yamal and Gydan peninsulas, and to develop the production and consumption of hydrogen with the objective to make Russia a global leader in the field. The strategy also aims at developing gas infrastructure in Eastern Siberia and in the Russian Far East to integrate the country into a single gas supply system, and at boosting innovation in energy companies. Finally, it aims at introducing digital technologies in the energy sector (smart metering and smart grids).
In March 2020, the Russian Ministry for Economic Development issued a draft plan for 2050, which is currently being reviewed by other ministries, with estimates on greenhouse gas (GHG) emission levels and power development. Under the plan, GHG emissions by 2030 would be allowed to rise from 1.58 GtCO2 in 2017 to 2.08 GtCO2 (67% of 3.11 GtCO2 recorded 1990) and to 1.99 GtCO2 by 2050 (64% of 1990 levels). The new goal is more ambitious than the existing target proposed in 2015 to limit 2030 emissions to 75% of 1990 levels (2.33 GtCO2).
---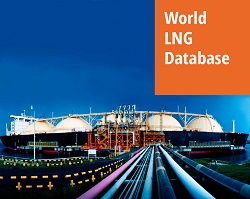 World LNG Database offers a complete set of data on LNG markets. The service provides detailed information on existing and planned liquefaction and regasification plants. It also includes LNG shipping around the world, LNG contracts, time series on regasification and liquefaction capacities, LNG flows and LNG prices for all players in the market.