Rosneft's hydrocarbon production rose by 4.3% in 2016 (Russia)
Russia's largest oil company Rosneft reached a new record in its daily hydrocarbon production, with 5.83 mboe/d in the fourth quarter of 2016. In 2016, its hydrocarbon production grew by 4.3% to 265 Mtoe (5.37 mboe/d): liquids production rose by 3.6% to 2010 Mtoe (+0.9 Mtoe, not taking into account the acquisition of Bashneft), while gas production rose by 7.3% to 67.1 bcm in 2016 (second stage of Rospan's Novo-Urengoy gas and condensate treatment plant, new Barsukovskoye field gas treatment facility and production increase at Sibneftegaz's Khadyryakhinskoye field). The development drilling in 2016 increased by 35%, in accordance with planned figures; Rosneft commissioned more than 2,600 new wells in 2016 (+43% on 2015).
In the downstream sector, the domestic refining throughput increased by 3.3% to 87.5 Mt in Russia; processed volumes outside Russia rose by 4.8% to 12.8 Mt. The company continues to optimize refining capacity utilization: it reduced the volume of fuel oil production at Russian refineries by 14.9%, while the production of Euro-5 gasoline and diesel fuel increased by nearly 56% to 31.1 Mt in 2016.
By improving diversification of oil supplies, Rosneft increased volumes of eastwards supplies by 8.6% to 43.1 Mt in 2016. The group concluded the contracts for 2017 for oil supplies to Belarus (up to 10.2 Mt) and to Germany (up to 7.3 Mt). In addition, the agreement for an increase of oil supplies to China transited through the territory of the Republic of Kazakhstan for 3 Mt (up to 10 Mt) was signed, with the contract being extended till 2019-2023. Therefore, an additional volume of up to 56 Mt till 2023 can be shipped in this direction.
---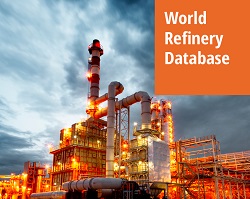 Use this powerful business intelligence tool to assess current and future production capacities of oil products, by country and by zone. Gain an insight into companies' asset portfolios and future trends for refined oil production capacities, giving you the ultimate edge in decision-making.