Rosneft sells Venezuelan oil assets to Russian state firm
Russia's oil company Rosneft has sold all its Venezuelan assets to an entity fully owned by the Russian government in a bid to protect the company from US sanctions. The transaction encompasses all Rosneft's participation in Venezuela, including stakes in oil producing companies Petromonagas (16.67% owned by Rosneft), Petroperija, Boqueron, Petromiranda and Petrovictoria, in oilfield service firms and trading operations. In turn, Rosneft will receive a package of 9.6% of its own shares.
Since April 2019, the Venezuelan government cannot sell crude oil to the United States without sanctions. Penalties are imposed on the Venezuelan state-run oil producer PDVSA or on any other company that is more than 50% controlled by the Venezuelan government, and any offshore (i.e. not based in the US) firm is prohibited to purchase crude oil from PDVSA, if it is using US dollars to buy it or if it is closing a transaction via an US-based financial institution. In February 2020, the United State sanctioned Rosneft Trading in relation to the sale of Venezuelan oil. In March 2020, the United States sanctioned for the same reason another Rosneft's subsidiary, TNK Trading International.
In 2019, PDVSA's oil export declined by 32% to reach 1 mb/d in 2019, as the company's crude oil production collapsed to around 1 mb/d on average between January and November 2019 (down from around 3 mb/d in 2012) and as the United States decided to sanction crude sales from Venezuela. In term of customers, Venezuelan oil was bought by Rosneft (33.5%), China National Petroleum Corp (CNPC) (11%) and Cubametales (7%). The country sold its oil to China (32%), India (22%), Europe (12%) and Cuba (7%).
---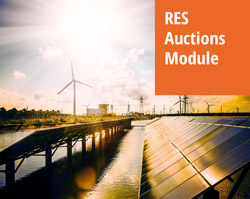 Discover our very detailed and regularly updated RES auctions database with worldwide coverage and a technical focus backed by academic research.
With our renewable energies auctions service you will be able to monitor auctions at a global level. Its (expanding) scope notably includes all major G20 countries and offers an especially fine tracking on Europe and South America.