Renewables accounted for 47% of Spain's power generation in 2021
The demand for electricity in Spain increased by 2.6% in 2021 to 256 TWh, according to the Spanish power transmission system operator Red Eléctrica de España (REE). Power generation increased by 3.4% to 260 TWh; spurred by a strong growth in wind (+10% to 60 TWh) and solar PV (+36.5% to 21 TWh), and a lower growth in CCGT generation (+1.5% to 45 TWh), while nuclear generation declined by 3% to 54 TWh and hydropower generation by 3.6% to 29.5 TWh. Overall, renewables accounted for nearly 47% of the country's power generation in 2021 (compared to 44% in 2020), with 23% of wind, 11% of hydro and 10% of solar. Including nuclear power (21%), the share of CO2-free power generation reached 68% of Spain's power mix.
Under the NECP 2021- 2030, renewables should cover 74% of power generation by 2030 and 100% in 2050.
---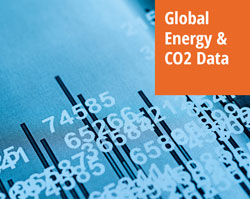 Then Global Energy Market Data & CO2 is your database! We provide world coverage of the oil, gas, coal, and power markets and a detailed overview of national supply & demand with annual data going back to 1970.
This energy database leverages more than 200 official data sources, which are processed by our analysts to provide fully harmonised data sets that are updated monthly.