Polish President ratifies Offshore Wind Act, targeting 5.9 GW by 2030
The Polish president has signed into law the Offshore Wind Act, which sets the legal framework for offshore wind development and plans state support for developers interested in building offshore wind projects in Poland. The new regulation introduces bilateral Contracts for Difference (CfDs), which will cover the difference between the market price of energy and the price enabling producers to cover the offshore wind production cost. The text, which is due to enter into force in February 2021, was approved by the Senate earlier in January 2021.
Poland plans to award more than 10 GW of offshore wind capacity by 2028. The Energy Regulatory Office (URE) will offer offtake agreements in two phases: 5.9 GW by the end of June 2021 and two 2.5 GW tenders in 2025 and 2027. Offshore wind plants will be put into operation successively, probably from 2024 to 2033. According to Poland's Energy Policy until 2040, 5.9 GW of new offshore wind capacity should be commissioned in the Baltic Sea by 2030 and 8 to 11 GW by 2040.
In January 2021, the three largest Polish energy companies PGE, ENEA and Tauron signed a Letter of Intent (LoI) to cooperate in future offshore wind projects. PGE aims to reach 2.5 GW of offshore wind capacity by 2030 and 6.5 GW by 2040; the group is currently selecting a partner for developing the Baltica 2 and Baltica 3 offshore wind projects (total capacity of 2.5 GW). Tauron is also developing its renewable capacity, targeting 1 GW of onshore wind capacity and 300 MW of solar PV capacity by 2025; offshore wind projects are planned after 2025, as the group aims to raise the share of renewables in its power mix to over 65% and halve its CO2 emissions by 2030.
 
---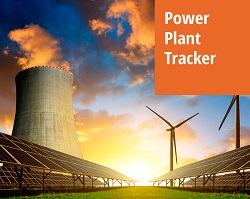 Enerdata has developed a market research service to screen, monitor and analyse the development of power generation assets.
Power Plant Tracker offers an interactive database and a powerful search engine covering power plants worldwide – including both installed and planned capacities for renewables and fossil fuels.
---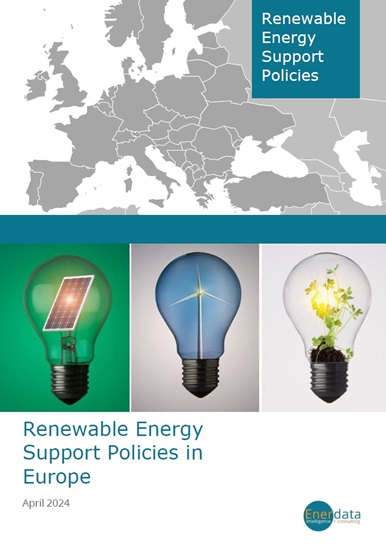 The European renewable report focuses on the different renewable energies for each country in Europe.
It covers the different support schemes used to promote renewable energy in for major sources of renewable energy: hydroelectricity, wind, solar, liquid biofuels for transportation, geothermal and oceanic sources (wave, tidal and thermal).