PipeChina stars building a 20 Mt/year LNG import terminal in eastern China
Newly created state-owned company PipeChina has started to build a 20 Mt/year (28 bcm/year) LNG import terminal project in Longkou in the Shandong province (eastern China) in cooperation with Nanshan Group. The National Development and Reform Commission approved the construction of the project in March 2020. The first phase of 5 Mt/year is expected to be commissioned by 2023. The total investment of the project is worth RMB35bn (US$5bn). It encompasses the construction of a receiving berth and six 220,000 m3 LNG storage tanks.
In December 2019, China created a national oil and gas pipeline company, which brings together the long-distance pipelines owned by three state-owned energy companies, namely PetroChina, Sinopec and CNOOC. The new company named China Oil & Gas Piping Network Corporation (PipeChina) is tasked with investing in, building, interconnecting and operating oil and gas pipelines. PipeChina is controlled by the State-owned Assets Supervision and Administration Commission of the State Council (SASAC).
---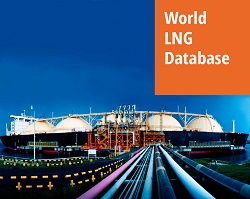 World LNG Database offers a complete set of data on LNG markets. The service provides detailed information on existing and planned liquefaction and regasification plants. It also includes LNG shipping around the world, LNG contracts, time series on regasification and liquefaction capacities, LNG flows and LNG prices for all players in the market.