Papua New Guinea unveils its new Nationally Determined Contribution
The government of Papua New Guinea has updated its nationally determined contribution (NDC). The country is committing by 2030 to a headline target of carbon neutrality within the energy industries sub-sector. It will introduce energy efficiency measures (implementation of Minimum Energy Performance Standards and Labelling (MEPSL) to reduce energy demand), establish a framework for fossil fuel emission offsetting, and raise the share of renewables in the grid-connected installed capacity from 30% in 2015 to 78% in 2030. This target represents a decrease from Papua New Guinea's original target of 100% renewable by 2030, which was included in the country's first NDC (2016), due to the expansion of LNG sector and its increased role in power generation. Papua New Guinea also plans a reduction in annual emission from deforestation and forest degradation, due to agriculture expansion and commercial logging of 10 MtCO2eq compared to 2015 level. All targets presented are conditional.
The energy sector is the largest net emitting sector in Papua New Guinea. Energy industries, manufacturing industries and construction account for 47% of the country's total emissions and include emissions from on and off-grid electricity generation and operation of the LNG plant. CO2 emissions from energy combustion have quadrupled since 1990, reaching 7.3 MtCO2 in 2018.
---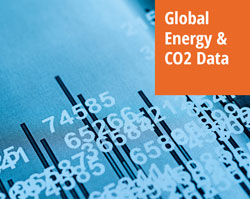 Then Global Energy Market Data & CO2 is your database! We provide world coverage of the oil, gas, coal, and power markets and a detailed overview of national supply & demand with annual data going back to 1970.
This energy database leverages more than 200 official data sources, which are processed by our analysts to provide fully harmonised data sets that are updated monthly.