Ofgem (UK) will increase energy price cap by 21% in January 2023
The British energy regulator Ofgem has announced its quarterly update to the energy price cap for the period 1 January – 31 March 2023. The price cap will rise by 21% from an annual level of £3,549 (€4,123) in August 2022 to £4,279 (€4,970) in January 2023, but bill-payers remain protected under the government's Energy Price Guarantee (EPG) until the end of March 2024. The energy price cap level indicates how much consumers on their energy supplier's basic tariff would pay if the EPG were not in place.
The EPG protects consumers reducing the unit cost of electricity and gas so that that a typical dual fuel direct debit bill for January 2023 remains at £2,500 (€2,905) and will be increased from April 2023 to a new level of £3000 (€3,485), with cost-of-living payments of £900 (€1,045) for those on means tested benefits, £300 (€349) to pensioners, £150 (€175) to those on disability benefits and doubling support for those on LPG or heating oil.
---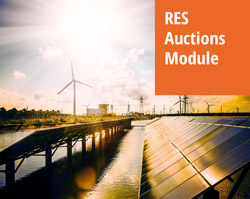 Discover our very detailed and regularly updated RES auctions database with worldwide coverage and a technical focus backed by academic research.
With our renewable energies auctions service you will be able to monitor auctions at a global level. Its (expanding) scope notably includes all major G20 countries and offers an especially fine tracking on Europe and South America.