Northern Territory (Australia) unveils text to support AAPowerLink project
The Northern Territory (Australia) has introduced legislation to facilitate the Sun Cable Australia-Asia PowerLink (AAPowerLink) project, a proposed high voltage direct current (HVDC) power cable between Darwin, in Northern Australia and Singapore. The text should streamline some approval processes and help developers to obtain project financing.
The AUD30bn (US$23bn) project would include a 17-20 GWp solar park in Tennant Creek (Australia), a 36-42 GWh battery storage facility, a 3 GW HVDC line between the solar complex and the Darwin region (with 800 MW of renewable capacity delivered to Darwin), and a 4,200 km long HVDC power transmission line to supply power to Singapore. The project, which has secured the "major project status" from the Northern Territory government, would cover up to 15% of the electricity consumption of Singapore, reducing the country's dependence on LNG imports. Sun Cable expects to reach financial close for the entire project by October 2023 and to start construction by the end of 2023. Commercial operations are expected to start in 2027-2028.
---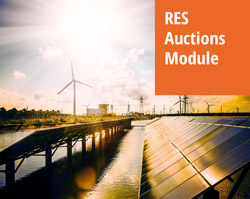 Discover our very detailed and regularly updated RES auctions database with worldwide coverage and a technical focus backed by academic research.
With our renewable energies auctions service you will be able to monitor auctions at a global level. Its (expanding) scope notably includes all major G20 countries and offers an especially fine tracking on Europe and South America.