Northern Territory (Australia) moves ahead with Singapore interconnection
The government of the Northern Territory (Australia) has signed a milestone agreement with Sun Cable to advance the development of the AUD22bn (US$17bn) Australia-ASEAN Power Link (AAPL), a proposed high voltage direct current (HVDC) power cable between Darwin, in Northern Australia, and Singapore.
The project would include a 10 GW solar park in Tennant Creek, a 30 GWh battery storage facility and a 4,500 km long power transmission line to supply power to Singapore. Sun Cable expects to reach financial close for the entire project by October 2023 and to start construction by the end of 2023. Commercial operations are expected to start in 2027. The proposed Australia Singapore Power Link, which has secured the "major project status" from the Northern Territory government, would cover nearly 20% of the electricity consumption of Singapore, reducing the country's dependence on LNG imports.
---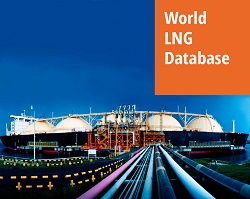 World LNG Database offers a complete set of data on LNG markets. The service provides detailed information on existing and planned liquefaction and regasification plants. It also includes LNG shipping around the world, LNG contracts, time series on regasification and liquefaction capacities, LNG flows and LNG prices for all players in the market.