The Nord Stream gas pipeline system damaged in the Baltic Sea
Nord Stream AG, the operator of the network, has reported that the Nord Stream gas pipeline system experienced "unprecedented damage". Indeed, two leaks on the Nord Stream 1 pipeline were detected, both in an area northeast of the island of Bornholm (Denmark) in the Danish part of the Baltic Sea. Additionally, two leaks on the Nord Stream 2 pipeline, which has not yet begun commercial operations, was also reported in Swedish waters south-east of the island. The pipelines were pressurised and saw pressure drops, although neither was actively being used to export gas. Sections of the pipes in that area range from 80 to 110 meters in depth.
In September 2022, Gazprom stopped supplying gas to Europe via the Nord Stream 1 pipeline. The Nord Stream 1 system, which comprises two 1,224-km offshore pipelines with a combined capacity of 55 bcm/year, runs from Vyborg (Russia) to Lubmin near Greifswald (Germany). The pipeline was built and is operated by Nord Stream AG, a Swiss company owned by Gazprom (51%), Wintershall Dea (15.5%), E.ON (15.5%), Engie (9%) and Gasunie (9%). The system transported a volume of 59.2 bcm of natural gas to Europe in 2021 (stable compared to 2020).
The same consortium also constructed the Nord Stream 2 pipeline, which remains idle after Germany halted the certification process in early 2022 following the Russian invasion of Ukraine. The pipeline, which entered construction in 2018, doubles the throughput of the current Nord Stream 1 gas pipeline from 55 bcm/year to 110 bcm/year. Construction was completed in 2021.
---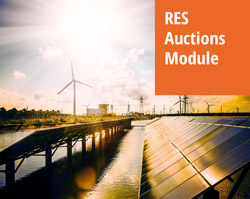 Discover our very detailed and regularly updated RES auctions database with worldwide coverage and a technical focus backed by academic research.
With our renewable energies auctions service you will be able to monitor auctions at a global level. Its (expanding) scope notably includes all major G20 countries and offers an especially fine tracking on Europe and South America.