Nigeria, Niger and Algeria endorse plan to build the Trans-Saharan Gas Pipeline
Nigeria, Niger and Algeria have approved a roadmap to develop the 30 bcm/year Trans-Saharan Gas Pipeline (TSGP) between Warri in Nigeria to Hassi R'Mel in Algeria, passing through Niger. The US$13bn gas pipeline, which aims to link Europe to the three countries' natural gas reserves, will be 4,128 km long, including 1,037 km in Nigeria, 841 km in Niger and 2,310 km in Algeria.
In July 2020, Nigeria officially launched the construction of the Ajaokuta-Kaduna-Kano (AKK) gas pipeline project, which links the south-west of the country to the North. The AKK gas pipeline will deliver 3.5 bcf/d (99 mcm/d or 36.1 bcm/year) of gas from several gas projects in the south of the country. In a first phase, it will supply 2.5 bcf/d (57 mcm/d or 20.7 bcm/year) to domestic customers. Developed by the Nigerian National Petroleum Corporation (NNPC) using a build and transfer model, the pipeline, is part the TSGP project. Commissioning is scheduled in 2022.
Morocco is promoting a competing project, the Nigeria-Morocco Gas Pipeline, which would connect Nigeria to every coastal country in West Africa (Benin, Togo, Ghana, Cote d'Ivoire, Liberia, Sierra Leone, Guinea, Guinea-Bissau, Gambia, Senegal, and Mauritania), ending at Tangiers, Morocco, and Cádiz, Spain.
---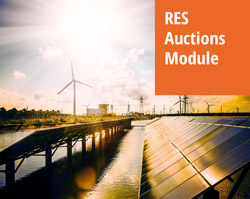 Discover our very detailed and regularly updated RES auctions database with worldwide coverage and a technical focus backed by academic research.
With our renewable energies auctions service you will be able to monitor auctions at a global level. Its (expanding) scope notably includes all major G20 countries and offers an especially fine tracking on Europe and South America.