NFE enters MoU with Mauritania for a gas focused energy hub
New Fortress Energy has announced the execution of a Memorandum of Understanding (MoU) with the Islamic Republic of Mauritania for the development of an Energy Hub, including natural gas, power, LNG and blue ammonia, utilising existing offshore gas reserves off the coast of Mauritania. The MoU is non-binding on the parties and actual terms of any future definitive agreement may differ from the terms of the MoU.
Under the MoU, NFE will deploy its innovative "Fast LNG" liquefaction technology to produce LNG in the Atlantic coastal basin offshore Mauritania for local gas and power markets as well as international exports. NFE will supply natural gas to both the existing 180 MW Somolec gas-fired power plant and a new 120 MW CCGT power plant that will be developed.
Following new discoveries in 2017, Mauritania's gas reserves were re-evaluated upwards in 2018, from 28 bcm to 50 bcm which has been attracting investments from different foreign companies. BP has signed a 20-year lease and operating agreement with Golar LNG for a floating LNG plant, Greater Tortue Ahmeyim LNG, with a capacity of 2.5 Mt/year, which could later be expanded to 10 Mt/year. In February 2020, Kosmos Energy signed a 20-year sale and purchase agreement with BP to supply the whole capacity of the first phase of the project. In April 2020, BP sent to Golar LNG a force majeure notice seeking to delay the delivery of the FLNG facility from 2022 to 2023 due to the COVID-19 pandemic.
---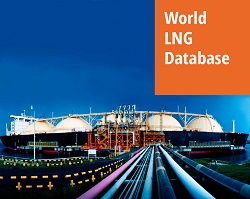 World LNG Database offers a complete set of data on LNG markets. The service provides detailed information on existing and planned liquefaction and regasification plants. It also includes LNG shipping around the world, LNG contracts, time series on regasification and liquefaction capacities, LNG flows and LNG prices for all players in the market.