New Zealand passes law for net zero CO2 emissions by 2050
The Parliament of New Zealand has adopted a law aiming to cut CO2 emissions to net zero by 2050, making the new 2050 greenhouse gas (GHG) reduction target legally binding. The government had approved a law to make New Zealand carbon neutral by 2050, except for GHG emissions of the agricultural sector. According to the bill, methane emissions from animals will have a different treatment, but will still have to reduce by 10% by 2030 and by up to 47% by 2050. The bill also established a Climate Change Commission in charge of elaborating a roadmap and plan to be updated every five years.
In its Nationally Determined Contribution (NDC) submitted in 2016, New Zealand committed to reduce its GHG emissions to 30% by 2030, compared to its 2005 levels. In 2018, emissions without Land Use, Land-Use Change and Forestry (LULUCF) reached 34.9 MtCO2. Over 30% of the country's emissions come from biological methane from livestock which is only submitted to a 10% reduction pledge by 2024.
---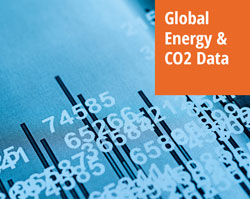 Then Global Energy Market Data & CO2 is your database! We provide world coverage of the oil, gas, coal, and power markets and a detailed overview of national supply & demand with annual data going back to 1970.
This energy database leverages more than 200 official data sources, which are processed by our analysts to provide fully harmonized data sets that are updated monthly.