New 330 kV line under construction between Niger, Benin, Nigeria and Burkina Faso
The Economic Community of West African States (ECOWAS) has officially started to build the "North Backbone" ("Dorsale Nord"), a 330 kV power interconnection line worth US$568m between Nigeria, Niger, Burkina Faso, Benin and Togo. The 875 km-long line will connect the Birnin Kebbi transformer station in Nigeria to the Zabori and Gorou Banda stations in Niger and to the Ouagadougou East transformer station in Burkina Faso; in addition, a stretch will connect Zabori to the Malanville transformer station in Benin. The project is financed by the World Bank, the African Development Bank, the French Development Agency, the European Union and Nigeria. Once completed in 2024, all 14 member countries of the ECOWAS will be connected.
Two similar projects are under development in West Africa, namely the construction of a nearly 1,700 km line to connect Senegal, the Gambia, Guinea, Guinea Bissau (as part of the Organisation pour la mise en Valeur du Fleuve Gambie, OMVG) and 1,300 km interconnection lines between Ivory Coast, Liberia, Sierra Leone, and Guinea (CLSG project).
---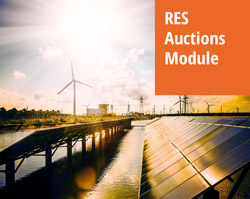 Discover our very detailed and regularly updated RES auctions database with worldwide coverage and a technical focus backed by academic research.
With our renewable energies auctions service you will be able to monitor auctions at a global level. Its (expanding) scope notably includes all major G20 countries and offers an especially fine tracking on Europe and South America.