Naturgy and Equinor plan a 200 MW offshore wind project in the Canary (Spain)
Naturgy and Equinor have signed an agreement with the Canary Islands Maritime Cluster to promote offshore wind power in the Canary Islands (Spain). The two groups are jointly developing the 200 MW Floating Offshore Wind Canarias (FOWCA) project that would be located east of Gran Canaria and that would be connected to the transmission grid at the Barranco de Tirajana III substation. The FOWCA project should take part in an offshore wind power auction scheduled in 2023.
The Canary Islands target 310 MW of offshore wind capacity by 2025, as set out in the Canary Islands 2015-2025 Strategic Energy Plan (EECan25). Iberdrola is developing the 238 MW San Borondón floating wind project off the southeast coast of the Gran Canaria Island, while Greenalia is developing four 50 MW floating wind projects, namely Dunas, Mojo, Cardon and Guanche, located in the south-east coast of the Gran Canaria, and is considering a fifth 50 MW project, Gofio. Moreover, Ocean Winds is promoting four 50 MW floating wind projects (Alisio, Cabildo, Sahariano and Colombino), along with a 144 MW project. Finally, Enerocean is developing the Canarray I and II projects (180 MW).
---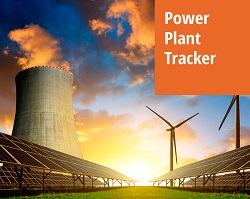 Enerdata has developed a market research service to screen, monitor and analyse the development of power generation assets.
Power Plant Tracker offers an interactive database and a powerful search engine covering power plants worldwide – including both installed and planned capacities for renewables and fossil fuels.