Mozambique approves Rovuma LNG project development plans
The government of Mozambique has approved Mozambique Rovuma Venture's development plan for the Rovuma LNG project, which will liquefy and export gas from three reservoirs in the Area 4 block offshore Mozambique. The liquefaction plant will include two LNG trains with a combined capacity of 15 Mt/year. Sales and purchase agreements for this 15 Mt/year volume have been submitted to the government of Mozambique for approval. The final investment decision in the project is expected later in 2019.
The Mozambique Rovuma Venture, a joint venture of ExxonMobil, Eni and CNPC, owns a 70% stake in the Area 4 exploration and production concession contract, in partnership with Galp, KOGAS and Empresa Nacional de Hidrocarbonetos (ENH) which each hold a 10% stake. ExxonMobil will lead the construction and operation of the LNG plant and related facilities on behalf of the MRV, while Eni will be in charge of the construction and operation of upstream facilities.
---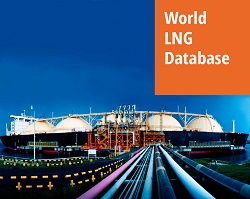 World LNG Database offers a complete set of data on LNG markets. The service provides detailed information on existing and planned liquefaction and regasification plants. It also includes LNG shipping around the world, LNG contracts, time series on regasification and liquefaction capacities, LNG flows and LNG prices for all players in the market.