Masdar inaugurates 100 MW solar project in Navoi (Uzbekistan)
Masdar (United Arab Emirates) has inaugurated its 100 MW Nur Navoi solar project in Uzbekistan, the first independent power producer (IPP) solar project in the country. Masdar was awarded the project in October 2019 through the country's first competitive solar tender held with the support of the World Bank's Scaling Solar programme. Masdar had submitted a bid of US$2.7c/KWh, one of the lowest tariffs posted in emerging markets at the time, and was selected to design, finance, build, own and operate the solar plant over a 25-year period. The solar power plant has started energisation and is expected to be fully operational by the end of 2021.
In addition to the Nur Navoi solar project, Masdar is developing several renewable power projects in Uzbekistan. The group won a tender launched in February 2020 for the construction of two solar projects to be built under public-private partnerships (PPPs) in the Jizzakh and Samarkand regions (220 MW each); it signed project agreements with the government in July 2021 and aims to commission the solar parks in the first quarter of 2023. Moreover, Uzbekistan has selected Masdar to build a 457 MW solar plant in the Sherabad district in a tender for a 200 MW solar PV project.
Finally, in April 2021, Masdar launched the construction of a 500 MW wind project located in the Zarafshan district of the Navoi region in Uzbekistan. The US$600m project, which is supported by a power purchase agreement (PPA) with the Ministry of Investments and Foreign Trade of the Republic of Uzbekistan and National Electric Grid of Uzbekistan, should be commissioned in late 2024. The company also agreed to extend capacity of the project to 1.5 GW.
---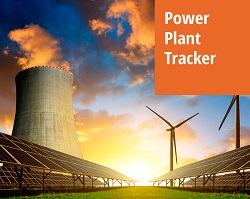 Enerdata has developed a market research service to screen, monitor and analyse the development of power generation assets.
Power Plant Tracker offers an interactive database and a powerful search engine covering power plants worldwide – including both installed and planned capacities for renewables and fossil fuels.