Kunlun Energy buys a 51% stake in Jingtang LNG from Petrochina (China)
The Chinese company Kunlun Energy Limited (formerly CNPC Limited) has agreed to acquire a 51% equity in PetroChina Jingtang LNG Co. from PetroChina Co. for CYu1.5bn (around US$232m). Once completed, the acquisition will give Kunlun Energy access to three LNG receiving terminals formerly operated by PetroChina, namely the Dalian LNG terminal (Liaoning province), the Rudong LNG terminal (also known as Jiangsu LNG, Jiangsu province) and the Tangshan LNG terminal (Hebei province).
PetroChina Jingtang LNG Co. has a registered capital of CYu2.6bn and operated the three aforementioned LNG facilities provides storage and regasification services. Its other shareholders are Beijing Enterprises Group Co. and Hebei Natural Gas Co.
---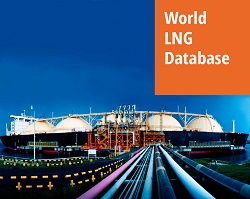 World LNG Database offers a complete set of data on LNG markets. The service provides detailed information on existing and planned liquefaction and regasification plants. It also includes LNG shipping around the world, LNG contracts, time series on regasification and liquefaction capacities, LNG flows and LNG prices for all players in the market.