JERA will buy 2.5 Mt/year of LNG from Petronas over three years (Japan)
The Japanese company JERA has inked a three-year LNG purchase deal with Malaysia LNG, a subsidiary of the Malaysian state-run company Petroliam Nasional Bhd (Petronas). The agreement will start from April 2018 onwards and JERA will buy 2.5 Mt/year of LNG from Malaysia LNG. The fuel is expected to be either delivered ex-ship (DES) or on a free-on-board (FOB) basis.
This is JERA's first deal of this kind since the Japan Fair Trade Commission (JFTC) ruling in June 2017, which stated that destination restrictions in LNG contracts are anti-competitive. Since this ruling, all new LNG contracts do not contain restrictions regarding the resale of cargoes anymore. This means that when LNG sellers conclude a new contract or revise a contract after expiration, they should not provide any competition-restraining clauses or implement measures which lead to the restrictions of resale. According to JERA, the current agreement is in line with the JFTC's ruling.
Established in 2015, JERA is a fuel purchasing equal joint venture of two major Japanese power companies, TEPCO Fuel & Power Incorporated and Chubu Electric Power Company.
Malaysia LNG operates the 28 Mt/year (including the last train commissioned in early 2017) Petronas LNG facilities in Bintulu, Sarawak (Malaysia).
---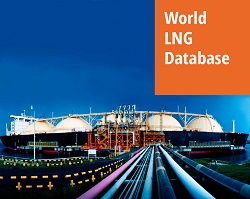 World LNG Database offers a complete set of data on LNG markets. The service provides detailed information on existing and planned liquefaction and regasification plants. It also includes LNG shipping around the world, LNG contracts, time series on regasification and liquefaction capacities, LNG flows and LNG prices for all players in the market.