JERA, Korea Gas and CNOOC have inked a MoU
Korea Gas (Kogas, South Korea), JERA (JV of TEPCO and Chubu Electric, Japan) and CNOOC (China National Offshore Oil Corporation), the world's largest LNG buyers, have signed a Memorandum of Understanding (MoU) in order to exchange information and promote future cooperation in the joint procurement of LNG.
The idea behind the deal is to enhance joint cooperation in order to enable a greater flexibility in procurement supply contracts. The three companies will be able to share views and discuss future opportunities in upstream projects, LNG procurement, shipping and storage.
The deal should also help the three companies to seize opportunities in terms of cargoes swapping and benefit from greater flexibility in particular regarding specific LNG business practices such as destination restrictions.
The three companies purchase altogether around one third of the global LNG production.
---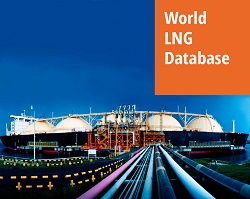 World LNG Database offers a complete set of data on LNG markets. The service provides detailed information on existing and planned liquefaction and regasification plants. It also includes LNG shipping around the world, LNG contracts, time series on regasification and liquefaction capacities, LNG flows and LNG prices for all players in the market.