Japan aims to become carbon neutral by 2050
The Japanese government has adopted a long-term growth strategy under the Paris Agreement, with the aim of becoming carbon neutral by 2050. The plan, which doesn't specify a timeline for phasing out coal-fired generation, aims to promote renewables, reduce CO2 emissions from thermal power in line with the long-term coals of the Paris Agreement, promote carbon capture and storage (CCS) and carbon capture and utilization (CCU), develop hydrogen and electricity storage.
The plan considers CO2 as a resource and aims to establish the first commercial CCU technology by 2023 and to use it broadly after 2030. Research will be conducted on suitable CO2 storage areas and CCS could be implemented at coal-fired power plants by 2030. CO2 could be used to produce hydrogen or raw materials. The strategy also aims to achieve a "well-to-wheel" zero emission target, by promoting electric vehicles, and to make building carbon neutral by 2050.
---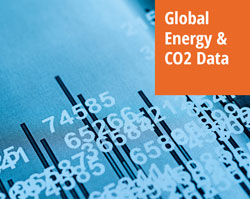 Then Global Energy Market Data & CO2 is your database! We provide world coverage of the oil, gas, coal, and power markets and a detailed overview of national supply & demand with annual data going back to 1970.
This energy database leverages more than 200 official data sources, which are processed by our analysts to provide fully harmonized data sets that are updated monthly.