Israel concludes privatisation process of a 660 MW CCGT plant
The Israeli state-owned power utility Israel Electric Corporation (IEC, 99.85% state-owned) has selected East Hagit Power Plant Limited Partnership, a consortium of Edeltech Energy & Infrastructure, Edeltech Renewable Energy, Shikun & Binui Energy and East Hagit Power Plant General Partner, as the winner in a tender for the purchase of the Eastern part of Hagit gas-fired power plant for ILS1.6bn (US$515m). The East part of the Hagit gas-fired plant has 660 MW of installed capacity and comprise four gas turbines and two steam turbines that were commissioned in 2002. All gas turbines are dual fuel, with the primary fuel being natural gas and the secondary fuel being diesel oil. The transaction is subject to approvals, including obtaining production licenses from the Electricity Authority with the approval by the Energy Minister, obtaining a merger approval from the Competition Authority and obtaining other regulatory approvals as stipulated in the purchase agreement.
---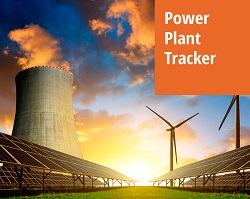 Enerdata has developed a market research service to screen, monitor and analyse the development of power generation assets.
Power Plant Tracker offers an interactive database and a powerful search engine covering power plants worldwide – including both installed and planned capacities for renewables and fossil fuels.