Iraq seeks investors to expand its refining capacity by 440 kb/d
Iraq is seeking investors to build seven refineries in various part of the country with a total capacity of 440,000 bbl/d. The first three projects comprise a 50,000 bbl/d refinery in the south-eastern Maysan Governorate, a 70,000 bbl/d refinery in Nineveh Governorate in northern Iraq and a 30,000 bbl/d refinery in the southern Basra city. The other three projects to be proposed in April 2023 encompass a 50,000 bbl/d refinery in the Southern Dhi Qar Governorate, a 100,000 bbl/d unit in Wasit in eastern Iraq and a 70,000 bbl/d refinery in Muthanna in southern Iraq. The seventh refinery has a capacity of 70,000 bbl/d and is located in the Western Alanbar Governorate.
The country has 16 refineries, for a total nominal capacity of 0.9 mb/d. The main refineries are Baiji (140 kb/d), Basrah (140 kb/d and expected to be expanded to 280 kb/d by 2030), Daura (expanded to 210 kb/d in 2011), and Kalak (expanded to 100 kb/d in 2011). Iraq aims to restore the Baiji refinery's previous capacity of 280 kb/d; the refinery suffered from intense fights in 2015.
---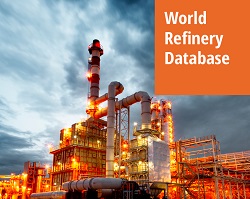 Use this powerful business intelligence tool to assess current and future production capacities of oil products by country and by zone. Gain insight into companies' asset portfolios and future trends for refined oil production capacities, giving you the ultimate edge for strategy and decision-making.