Indonesia plans to offer 10 oil and gas areas in 2023
The Ministry of Energy and Mineral Resources (ESDM) of Indonesia, through the Directorate General of Oil and Gas, plans to offer 10 oil and gas working areas in 2023, including working areas in Natuna D Alpha in the South China Sea, in an attempt to boost oil and gas production and make new discoveries. In 2022, Indonesia offered 13 oil and gas fields in an auction and awarded contracts for 6 of them.
Indonesia aims to raise crude oil lifting to 1 mb/d and gas lifting to 12 Bcf/d (340 mcm/d or 124 bcm) by 2030 (in 2021, it produced around 700 kb/d of crude oil and NGL and 58 bcm of gas). According to preliminary statistics, Pertamina's oil and gas production reached 1.018 mboe/d in 2022, exceeding a target of 992 kboe/d, and oil and gas lifting averaged 887 mboe/d in 2022 (over the target of 850 mboe/d).
In addition, the ESDM aims to raise coal production from 687 Mt in 2022 to 695 Mt in 2023, of which 518 Mt would be exported (up from 494 Mt in 2022). 2022 coal production exceeded the 663 Mt target despite an export ban in early 2022 and heavy rains disrupting operations. Indonesia also consumed nearly 10.5 billion litres of palm oil-based biodiesel in 2022 and biodiesel consumption could reach 13 billion litres in 2023.
---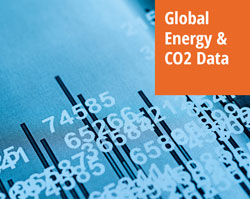 Then Global Energy Market Data & CO2 is your database! We provide world coverage of the oil, gas, coal, and power markets and a detailed overview of national supply & demand with annual data going back to 1970.
This energy database leverages more than 200 official data sources, which are processed by our analysts to provide fully harmonised data sets that are updated monthly.